Contents
Introduction to Lithium - Why Flux Power Uses LiFeP04 - Battery Management System
Introduction to Lithium-ion Batteries
Lithium-ion batteries were invented in 1980 by John Goodenough; they were commercialized in 1991 by Sony. In the past decade lithium-ion batteries have become the dominant rechargeable battery chemistry in nearly all industries. Lithium-ion, in comparison to previous popular chemistries, (Lead acid, Nickel-Cadmium, and Alkaline) are better in many ways. With the advancement in technology, a battery that is safe and powerful is in great need. Lithium is the most energy dense chemistry in use and with added features can be the safest. Lithium energy is an active area of study so new chemistries are being developed every year. Some of the most popular chemistries are:

1. Lithium Titanate (LTO)
2. Lithium Cobalt Oxide (LCO)
3. Lithium Nickel Manganese Cobalt (NMC)
4. Lithium Iron Phosphate (LFP)
While these are all lithium batteries, there are key differences between them.
LTO has a very long life and a wide temperature range. They are capable of handling large charge currents greater than 10C. They have one of the lowest energy densities (2.4V/Cell) of all lithium batteries and are one of the most expensive.
LCO became very popular because of its high energy density (3.6 V/Cell). Cobalt is a very energy dense material but is extremely volatile and expensive. It is a resource that is depleting quickly and is estimated to run out in 50 years, or due to its recent increase in consumption. LCO has many negatives, they cannot handle large charge currents, are very sensitive to temperature, and have a short cycle life.
NMC is a rapidly developing chemistry, at the time this is written. The blending of nickel, manganese, and cobalt produces a very well-rounded battery. With a high energy density (3.6V/Cell) and a decreased use in cobalt, it has become one of the most desired batteries in the industry. Due to its lower cobalt concentration, it is safer than LCO. Its life cycle is longer than LCO but shorter than LTO. It can handle charge currents up to 2C and a greater range in temperature. It is also important to know that batteries that contain cobalt require more safety features which make the batteries more expensive.
LFP is popular in industries with heavy use and rough environments. While this chemistry has a slightly lower energy density (3.2V/Cell), it can withstand a lot of abuse. It has a long-life span, it's less costly and much safer because it does not contain cobalt and can withstand a very wide range of temperatures. It can also withstand discharge currents up to 20C. Overall this is the safest and most reliable chemistry.
| | | | | |
| --- | --- | --- | --- | --- |
| | LTO | LCO | NMC | LFP |
| Voltages | 2.4 volts | 3.60 volts | 3.6 volts | 3.2 volts |
| C-Rate | 10C | 1C | 2C | 20C |
| Cycle Life | 3000 | 500 | 1500 | 2500 |
| Thermal Runaway | 280 °C | 150 °C | 210 °C | 270 °C |
| Cost | $1,000 per kWh | $450 per kWh | $700 per kWh | $400 per kWh |
Table 1: Comparison of LTO, LCO, NMC, LFP

In the simplest terms, a lithium-ion battery refers to a battery with a negative electrode(anode) and a positive electrode(cathode) that transfers lithium ions between the two materials. Lithium ions move from the anode to the cathode during discharge and deposit themselves(intercalate) into the positive electrode (Figure 1.), which is composed of lithium and other metals. During charge this process is reversed.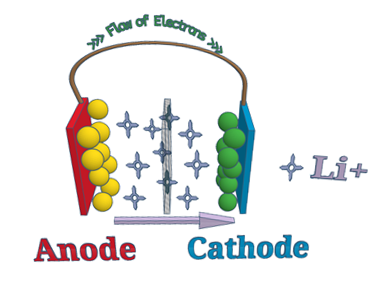 Figure 1. Electron and Li+ Ion Flow During Use

Within the cells there are many layers of anode and cathode with a separator in between. Between the two plates, there is also an electrolyte solution, typically LiPF6 mixed with a liquid solution. This combination of materials can either be stacked (prismatic cells) or wound in a spiral (cylindrical cells). Cells vary in size and shape; some are encased in plastic while others are in aluminum cases. The casing is dependent on the environment they are going into and the size is determined by the amount of capacity needed for the application.

Figure 2. Cylindrical, prismatic, and pouch cell types.
Each lithium-ion cell has a safe voltage range that it can be operated in. This range is dependent on the chemistry used in the battery. For example, an LFP battery at 0% State of Charge (SOC) is 2.8V and at 100% SOC is 3.6V. This is considered the safe operating range of this battery. Going below the stated 0% SOC can cause degradation of the electrodes. This is considered an over-discharge. If a cell is repeatedly over-discharged it can cause many issues that permanently damage the battery. The same is true for an over-charge, going above the stated 100% SOC. These two failures have led battery manufacturers to develop safety devices and features.
A battery is typically comprised of many cells working in conjunction with one another. Let's consider an LFP cell with a nominal voltage of 3.2V and a capacity of 100 Ah. Most applications require a higher voltage and capacity, how would this be done? In order to increase the voltage of a battery multiple cells must be connected in series. To increase the capacity, cells must be connected in parallel. For example, let say we want a 12V battery with a capacity of 300 Ah. With the given LFP cell we would need 4 cells in series with 3 modules in parallel. This would produce a system that is 12.8V with a capacity of 300 Ah.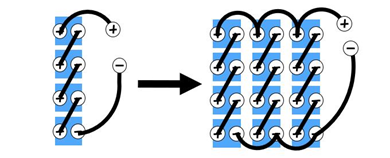 Figure 3. Cell System Diagram
The four main components of a cell are the anode, cathode, separator and electrolyte solution.
Anode
The anode is the negative electrode in the cell. It is very common, in lithium-ion batteries, for it to be composed of lithium and carbon, usually a graphite powder. The current can be collected due to the copper film that is combined with the electrode. The purity, particle size, and uniformity of the anode all contribute to the aging behavior and capacity.

Cathode
The cathode is the positive electrode. This is where all the different chemistries come into play. The cathode is what determines the overall lithium chemistry. Like the anode, a current collector is combined with the material so the flow of electrons can occur. The cathode is typically combined with an aluminum film. As shown above there are many different chemistries. The key differences between them is temperature at which they react with the electrolyte (thermal runaway) and the voltages they produce.

Electrolyte
The electrolyte allows the transfer of the lithium ions between the plates. Typically, it is composed of different organic carbonates, such as ethylene, carbonate, and diethyl carbonate. The different mixtures and ratios vary depending on the application of the cell. For example, for a low temperature application the electrolyte solution will have a lower viscosity compared to one made for a room temperature environment. Lithium salts are essential in the mixture of the electrolyte, the salt determines the conductivity of the solution as well as aids in the formation of the solid electrolyte interface (SEI). In lithium batteries, lithium hexafluorophosphate (LiPF6) is the most common lithium salt. LiPF6 can produce hydrofluoric acid (HF) when mixed with water. The SEI is a chemical reaction between the lithium metal and electrolyte. Under normal conditions the cell manufacturer typically slow charges the cell to form an even SEI on the carbon anode.

Separator
Lithium-ion cell separators are porous plastic films that prevent direct contact of the anode and cathode. The films are usually 20 μm thick and have small pours that allow lithium ions to pass through during the charge and discharge process. A "shutdown" separator is the most common. This separator will close the pores to prevent lithium ions to pass through, once the cell is out of the temperature range or a short occurs. Separators continue to be developed today to improve safety, while also increasing the capacity of the cells. For further review, you can look at these two articles. The Top Lithium Battery Uses and Why Does a Lithium-ion Battery Work Better For Forklifts.
Why Flux Power Uses LiFeP04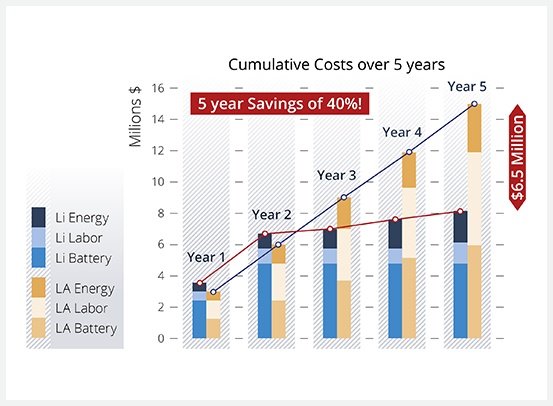 We at Flux Power pride ourselves in being experts in energy storage solutions. This is why we chose a superior battery chemistry that has been proven through decades of research and deployment in multiple applications. In addition, our energy storage solutions have numerous advantages over current lead acid technology. For further details on the differences between lithium-ion and lead acid, review this article, "Are Lithium-ion Batteries Better than Lead-Acid for Forklifts."
Capacity & Cycle Life
One of the most important benefits of Flux Power's choice of lithium-ion is the dramatic increase in energy density over current lead-acid battery solutions. Flux Power uses Lithium-Iron-Phosphate (LiFePO4) which has a specific energy of ~110 watt-hours per kilogram, compared to lead-acids ~40 watt-hours per kilogram. What does this mean? Our batteries can be ~1/3 the weight for similar amp-hour ratings.
Not only does Flux Power's lithium-ion store more energy, but the cycle-lifetime far exceeds that of lead-acid and many other lithium chemistries.
In our article, "5 Steps To Maximize Lithium-ion Battery Life," you'll find additional tips that will help you get the most out of your battery.
Every battery cell chemistry is affected by the depth of discharge, and the deeper the discharge, the shorter the lifespan. Flux Power's lithium-ion can be discharged a remarkable 80% while still maintaining long cycle lifetimes (>2000 cycles). Lead acid batteries experience drastic reductions in cycle life. In fact, at an 80% depth of discharge, lead acid batteries only last 400-500 cycles, meaning our batteries last 5x longer.