For nearly three decades, lithium-ion batteries have provided a more reliable, safe and cost-efficient way to power small devices and cutting-edge pieces of machinery.
You've likely used a lithium-ion battery either personally or professionally. In fact, the device you're reading this article on likely is powered by one. However, their use is increasing across multiple industries, thanks to the wide range of benefits they offer, such as high energy density, low maintenance, long lifespan and low self-discharge rate.
Here are some of the most common ways lithium-ion batteries are used.
Electronic Devices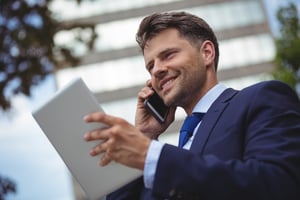 One of the most common ways lithium-ion batteries are used is in portable power packs. These packs power the phones, tablets, and laptop computers that we use and provide a host of benefits, making them attractive to electronics manufacturers.
Lithium-ion batteries are light in weight, tolerate movement and temperature changes and deliver consistent power when these electronics are in use. When the battery begins to run low, lithium-ion batteries are fast charging.
Mobility Equipment
In addition to the electronic devices that are used for entertainment and work, lithium-ion batteries also make life easier for those who have mobility or other health restrictions.
Lithium-ion batteries are often used in electric wheelchairs and stair lifts, for example, because of their lightweight features, fast charging capabilities, longer lifespan and extended run times. They also come in a variety of sizes, making lithium-ion batteries a great choice when customizing equipment to meet people's needs.
Lithium-ion batteries are also used in equipment that increases a person's quality of life, though you can't always see the device. Pacemakers and implanted defibrillators regularly use lithium-ion batteries, which can see life spans of up to 7 to 15 years, or longer, in many cases.
Material Handling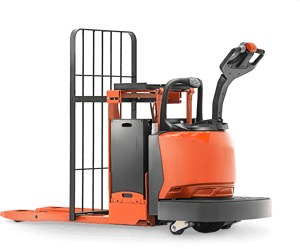 Electric forklifts generally operate using one of two types of batteries...lithium-ion or lead-acid. Many warehouse operations, however, are turning toward lithium-ion batteries to power their material handling fleets.
That's because this newer technology offers many time- and cost-savings benefits for fleet managers. Here's a snapshot of some of those benefits:
Run times: Lithium-ion batteries typically run 7.2 hours before requiring a charge, compared to 5.4 hours fora lead acid battery.
Charging time: Lithium-ion batteries take just 1 to 2 hours to charge and can be opportunity charged, compared to 8 hours, an entire shift for lead-acid.
Cooling down: Lithium-ion batteries do not require a cool-down period after charging, unlike lead-acid batteries.
Multi-shift capabilities: Because of the reasons outlined above, the same lithium-ion battery can be used across multiple shifts. If a fleet uses lead-acid batteries, it requires a separate battery for every shift.
Longer lifespan: Lead-acid batteries typically last between 1,000 and 1,500 cycles, whereas lithium-ion batteries typically last between 2,000 and 3,000 cycles.
Less maintenance: Lithium-ion batteries do not require the same level of maintenance as lead-acid batteries, since they do not need to be topped off with water once charged because their cells are completely enclosed. They also feature a battery management system that helps monitor temperatures and keep the battery operating at peak efficiency.
Our article, How To Choose The Right Forklift Battery, offers a more in-depth look at the advantages lithium-ion batteries provide in the material handling industry.
Airport Ground Operations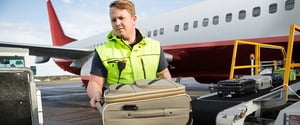 For many of the same reasons outlined above, lithium-ion batteries are becoming the go-to source of power for airport ground operations. Each day, 2.6 million passengers fly in and out of U.S. airports.
Using reliable and efficient ground support equipment (GSE) is critical for airlines to meet their schedules. Lithium-ion technology provides GSE operations with a reliable way to keep up with the increasing demand of global air traffic.
Converting to electric GSE technology makes sense, considering how equipment is used at airports...frequent starts and stops, more instances of idle time, and short required ranges. In addition to ground support equipment like pushbacks, luggage tugs and baggage carts, are also reaping the benefits of lithium-ion batteries.
Airports are under pressure from regulatory agencies to reduce emissions, so lithium-ion batteries are a good fit for the electric GSE that helps them do that.
In an effort to improve airport air quality, the Federal Aviation Administration has created several programs that provide Airport Improvement Project grants for eligible and justified air quality projects. The programs include Voluntary Airport Low Emissions (VALE) and Zero Emissions Vehicle and Infrastructure Pilot (ZEV).
You can read more about these programs in our article, The Future of Powering Airport Ground Support Equipment.
Electric Vehicles
Lightweight lithium-ion batteries are being used to power RVs and ATVs, and electric cars.
In fact, one report shows U.S. electric vehicle sales increased by 81% in 2018, and lithium-ion batteries are now considered the standard for modern batteries.
Other Devices
In addition to the uses mentioned above, lithium-ion batteries can be found in a wide variety of devices, from hearing aids to watches, calculators, thermometers, remote car locks, handheld gaming consoles, power tools and digital cameras. Even the Mars Curiosity rover used two rechargeable lithium-ion batteries to help it explore the distant planet.
Thanks to their wide range of benefits from long lifespans to enhanced safety features, lithium-ion batteries are used across multiple industries today. As technology evolves, that trend is expected to continue, providing industries with more efficient, safer and cleaner energy.