At a time when companies are laying off employees and shutting down facilities, finding the resources to perform the required maintenance on idle lead acid batteries can be a serious problem.
When a company shuts down operations that include the use of material handling equipment like forklifts, employees often store the equipment and batteries the same way as when they're being used.
If no maintenance is performed during this time, employees may return to find the lead acid battery cells damaged beyond repair. This can be a costly mistake and devastating to a company's bottom line, especially when a business may be trying to ramp up their production.
If your company is experiencing a temporary decrease in workload and has begun the process of storing its lead acid batteries, it is important to have a plan in place so the batteries can receive the required maintenance they need.
Below are some lead acid maintenance procedures to keep in mind during this time, as well as reasons why a lithium-ion battery may be a better choice for the long-term.
Maintaining Lead Acid Batteries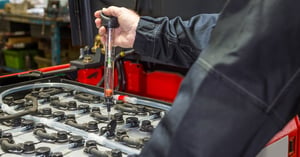 For companies that use lead acid batteries in their forklifts, there are several maintenance procedures that must be performed in order to ensure they meet their intended lifespan. This can be problematic for companies that have temporarily shut down or reduced staffing.
Before storing lead acid batteries for an extended period of time, employees must remove them from the forklifts, transport them to a charging room, and ensure they are fully charged. It is also important to top off the batteries with distilled water to the required levels.
Lead acid batteries can only be safely discharged down to 30% capacity. If a company is experiencing a prolonged shutdown in operations, it is critical for the company to still perform regular battery maintenance. This includes checking the capacity of a battery to ensure it does not fall below 30% and ensuring distilled water levels are at the appropriate levels.
If no regular maintenance is performed, a lead acid battery can discharge to dangerous levels and become sulfated. If this occurs, the lead acid battery may no longer work effectively. For a business with a large fleet of forklifts, the replacement purchase of lead acid batteries can be costly.
A company may need to consider temporarily bringing employees back in to perform maintenance on the forklift batteries, or hiring contractors to ensure the lead acid batteries stay in working order.
Lithium-ion Provides An Alternative
If your company has experienced a prolonged shutdown and new electric forklift batteries must be purchased to replace damaged batteries, consider the benefits that lithium-ion batteries provide.
Lithium-ion batteries do not require maintenance like lead acid batteries. Even during a reduction in workload, lithium-ion batteries can simply be turned off when not in use. In fact, the shutdown process is 3 simple steps: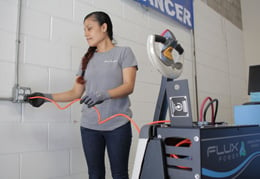 1. To place a battery into a storage state, turn the battery ON and fully charge the battery.
2. Once fully charged, the battery needs to be turned OFF by opening the circuit breaker, pressing the green button, or turning the power switch to off.
3. Prior to the battery being used again, turn the battery ON and fully charge the battery. Once fully charged, the battery is ready for redeployment into your fleet.
Although lithium-ion batteries will lose their charge over time when not in use, they can be safely discharged down to 20%.
If a lithium-ion battery is fully charged prior to a shutdown and is turned off prior to being stored, a lithium-ion battery can last anywhere between 6 to 10 months before it reaches the maximum level of discharge of 20%.
It is important, however, to make sure a lithium-ion battery is turned OFF. If a lithium-ion battery sits ON for more than two weeks, it can enter into an over-discharged state and potentially damage the cells. This can void the battery's warranty.
Lithium-ion batteries can remain in the forklifts for storage as well since they do not require a separate room for charging, unlike lead acid batteries. When a company's workload resumes to normal levels, employees can simply plug in the lithium-ion batteries, top off their charge and get back to business.
Lithium-ion batteries offer several other advantages over lead acid batteries, including:
Higher energy efficiency: Lithium-ion batteries store and provide a higher percentage of the electricity that is paid for during the charging process, and less of it is wasted.
Faster charging times: Lithium-ion batteries can be opportunity charged since they only take about 1 to 2 hours to charge. Lead acid batteries take about 8 hours to fully charge, and then require another 8 hours to cool down.
Longer lifespans: Lithium-ion batteries have a lifespan of around 3,000 cycles. Lead acid batteries have a service life of around 1,500 cycles.
Fewer safety concerns: Lithium-ion batteries are generally safer than lead acid batteries because of the way they are constructed. Lithium-ion batteries are completely enclosed. Lead acid batteries are made from toxic lead and sulfuric acid. They must be watered weekly, which leads to risk of spilling the dangerous acid if not done safely. They also generate a lot of heat when charging, so they must be kept in a temperature-controlled room and properly vented.
Read more about these advantages in our article, Lithium-ion Vs. Lead Acid Forklift Batteries: Which Are Best?
Evaluate Your Choices
If your lead acid batteries have discharged to the point where their cells have sustained damage and will no longer power your fleet of forklifts, you are likely facing the choice of either replacing those lead acid batteries or choosing a different power source.
Now may be the perfect time to evaluate a new battery that may improve productivity once operations return to normal. For example, some battery manufacturers offer the opportunity to request a demo battery.
Purchasing a battery for your electric forklift is a major investment, especially if your operations utilize a large fleet of material handling equipment. Seeing a lithium-ion battery in action can help you determine whether your purchase is a good long-term investment.