We recently visited Christian Sanchez, General Manager, at the Arctic Glacier ice manufacturing and distribution center in Oceanside, California. We sat down with him to learn about their business and how Flux Power lithium-ion batteries have helped transform the efficiency of their operations. We invite you to watch the video and read the full interview, below.
Flux Power: Tell us about Arctic Glacier
Christian Sanchez: We manufacture and distribute packaged ice. As a company, we distribute to over 75,000 retail customers, including grocery stores, markets, and construction companies using ice. From our facility here in Oceanside, CA we distribute to over 1,100 customers.
What are you responsible for?
Christian: As the plant manager of the Oceanside location, I oversee facility operations, everything from manufacturing to distribution and sales of ice to customers. We run 12 – 15 delivery routes. We produce 350 tons of ice every day from this location.
Since you're in Southern California, do the wildfires impact your business at all?
Definitely. This year, we had a lot of power outages, many of them were planned by the power companies to reduce fire risk during strong winds and high heat. A lot of homes were affected.
One of the things they really needed to keep their food and products cold was ice. And this produced a huge spike in our business, similar to other seasonal spikes in the summer and during holidays. We do what we can to help out the Red Cross and Fire Department as well.
What role to forklifts and pallet jacks play in the packaged ice industry?
Forklifts and pallet jacks are among the top 5 important things in our ice distribution and manufacturing business. We need our equipment to work in order to be able to stack our products, to load our trucks and deliver to our customers. Forklifts play a tremendous role in our business.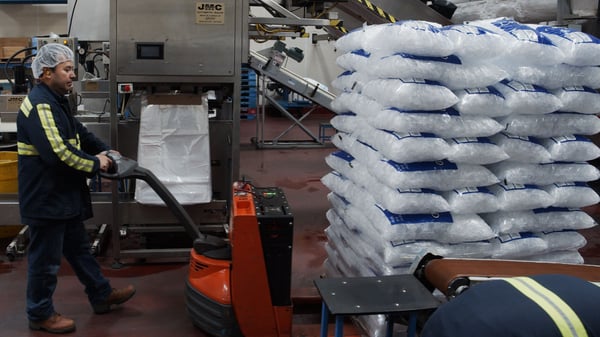 Thinking back to before you used lithium-ion in your lift equipment, what were some of the biggest challenges you faced?
One of our biggest challenges, we always had batteries going out. And we always had to deal with downtime on our equipment. Also, because we're constantly going in and out of hot and cold environments, some traditional batteries just wouldn't work well in those conditions.
Now that you've switched to Flux Power what has been your experience?

Since we switched to Flux Power (lithium-ion forklift batteries) we've had literally no maintenance issues and our downtime is minimal. If there is downtime, it's definitely not with the batteries; it's something else on the forklift.
"It's a simple product to use and it works great."
How did you get started with Flux Power batteries?
We got started after being approached by a Flux Power Sales Rep. We tried one out – and then just started adding more, then added them to our bigger equipment – and it's been working out great.
That's great, why has your team transitioned to Flux Power LiFT Packs?
We like the minimal downtime. We like the extended life. We have drivers doing up to 3 truckloads, and previously, we'd have to send them a separate jack for the driver to be able to finish his day. Currently with the Flux Power batteries on board – the charge just goes forever and he can finish his shift on just one charge. That's one of the main reasons we like Flux Power.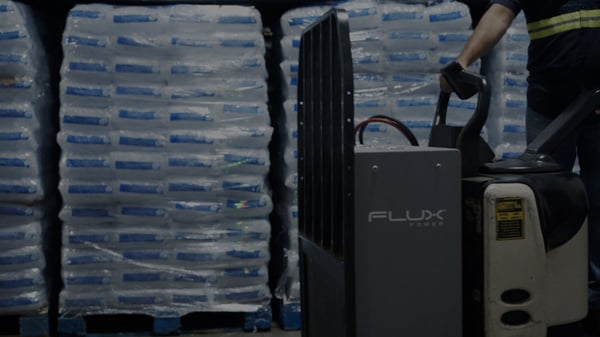 How many hours is a delivery shift?
One shift can last anywhere from 12 to 15 hours in our peak season moving up to 60 pallets in and out of the truck. For some warehouse deliveries, such as Costco, the drivers walk quite a long distance to move that pallet into the freezer. So they are used quite a bit, in cold and hot temperatures without any issues.
Can you point to any ROI on your switch to lithium-ion?
The return on investment is pretty easy to explain. We had a really high cost on batteries. We were constantly buying batteries. Batteries were constantly being ruined, on traditional batteries you have to make sure the water level is correct, checking the water level at the right time and especially equipment downtime. Once you add that all up, it's pretty easy to justify the up-front expense of buying new batteries from Flux Power.
What has been the biggest win so far with your Flux Power packs?
Our biggest win is the extended time we can use them. We have multiple shifts that can last up to 16 hours. Extension of the battery charge time is huge.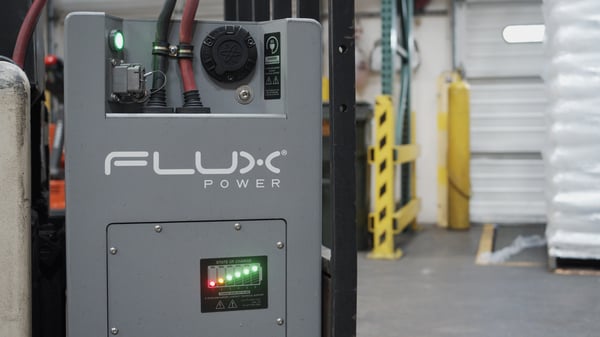 Do you have any final words of advice for someone considering adopting lithium-ion packs from Flux Power?
It's a great product (Flux Power lithium-ion battery pack) if you're currently having issues with downtime or with high cost of replacing batteries and chargers. It's a very simple product that you just swap out. It plugs into the wall. It's a 110 volts, there's nothing special that needs to be added, it's a simple product to use and it works great.
Thanks for your time, Christian.