With 2.6 million passengers flying out of U.S. airports every day, the need for reliable, efficient and zero emissions equipment has become an important factor in the airline industry.
Baggage trucks play an integral role in transporting loose bags, mail bags and cargo cartons between the aircraft and another location, such as the terminal.
As the airline industry continues to work to reduce costs, reduce carbon emissions and increase efficiency at all levels, many managers are taking a closer look at their ground support equipment (GSE).
Electric GSE, including airport baggage trucks, has revolutionized the way airport ground operations function by offering more energy-efficient and cleaner technology that reduces costs.
Traditionally, ground support equipment has been powered by gasoline, liquid petroleum gas (propane) or diesel fuel. However, because of their versatility and convenience, electric GSE is being incorporated into more airport fleets. The Federal Aviation Administration (FAA) has also provided airports with incentives to make the switch by providing Airport Improvement Project grants for eligible and justified air quality projects.
Below, we'll present several factors that the airlines and GSE manufacturers look at when considering the move to lithium-ion technology.
Zero Emissions Means Less Pollution
Most GSE is powered by liquid petroleum gas (propane) or diesel. The emissions that result from using these fuel sources to power an internal combustion engine is a significant concern for the FAA and airports.
As a result, FAA created the Airport Zero Emissions Vehicle (ZEV) and Infrastructure Pilot Program to allow airport owners and sponsors to "use Airport Improvement Program (AIP) funds to purchase ZEVs and to construct or modify infrastructure needed to use ZEVs."
Now, for more than half (64%) of those looking to move to electric trucks, environmental considerations are a key motivation.
By switching to lithium-ion batteries, airports also can expect an emissions reduction of:
| | |
| --- | --- |
| Emission | Annual Reduction Amount |
| Nitrogen Oxide | NOx (tons): 7.39 |
| Hydrocarbon | HC (tons): 16.20 |
| Carbon Monoxide | CO (tons): 342.96 |
| Particulate Matter | PM (tons): 0.11 |
| Sulfur Dioxide | SO2 (tons): 0.02 |
Switching to lithium-ion batteries provides many other environmentally-friendly benefits. Because of the way a lithium-ion battery is designed, there is no risk for some of the hazards associated with using gasoline and diesel fuel, including:
Spills
Noxious odors and exhaust
CO2 emissions
Fuel contamination
A lithium-ion battery is also completely sealed shut, which not only eliminates the risk for environmental hazards, but also minimizes safety hazards for workers.
Electric Thrives In Airport Environments
Electric ground support equipment, such as baggage trucks, thrive in airport environments. That's because the way this equipment is powered increases the efficiency of their movements.
For example, electric GSE become especially efficient when they:
Make frequent starts and stops

Sit idle for longer periods of time or in more instance

Have to perform in short required ranges
Another piece of equipment associated with the management of bags and cargo, luggage tugs, also benefit from the use of electric power. Luggage tugs are used to move any equipment - including baggage trucks, air starters and lavatory carts - that cannot move on their own.
Ground handling operators often favor the electric version of this type of equipment because of their "inching device" feature. This allows crews to stand behind luggage tugs and inch it into the hitch of the luggage trailer.
Lithium-Ion Provides Many Benefits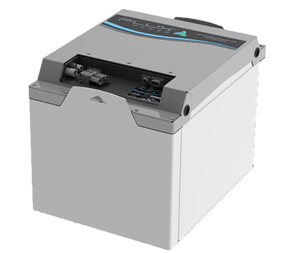 Lithium-ion batteries increase the efficiency of airport baggage trucks, which in turn impacts the overall efficiency of an operation. Here are some of the benefits:
Faster Charge
There are not many hours during a normal operational day at the airport when the use of airport baggage trucks aren't needed. Lithium-ion batteries have a remarkably fast charging time and can be opportunity charged, therefore reducing the downtime needed to charge other batteries, such as lead-acid.
A typical use cycle for a lithium-ion battery over the course of a 24-hour period may look like this:
1 to 2 hours transporting luggage to and from airplanes
15 to 30 minutes charging the battery in between servicing planes
1 to 2 hours transporting luggage to and from airplanes
15 to 30 minutes charging the battery in between servicing planes
1 to 2 hours to transporting luggage to and from airplanes
15 to 30 minutes charging the battery in between servicing planes. And so on…
This convenient cycle allows for continuous use of a baggage truck around the clock and across multiple shifts.
More Energy Efficient
Lithium-ion batteries maintain a constant voltage throughout the discharge cycle. This means the truck won't experience a performance decrease as the battery discharges. Lithium-ion batteries can be as much as 50% more energy efficient compared to lead-acid batteries.
Better Cold Weather Performance
Lithium-ion batteries perform better at colder temperatures, typically only experiencing a 10% drop in capacity. Lead-acid batteries can experience a significantly worse reduction in capacity when used in cold climates. This can be especially important for airports that operate in frigid temperatures.
Airport baggage trucks that use Flux Power GSE Pack batteries also have the added benefit of an optional heater that is controlled by the battery management system to keep cell temperatures in their ideal range.
Less Maintenance
An Airport Cooperative Research Program Report sponsored by the FAA, found that electric GSE maintenance costs were less than GSE fueled by gasoline, diesel, or biofuels.
In the world of airport baggage trucks, there is little time for maintenance. Because any time that GSE is taken out of service for maintenance has the potential for impacting flight operations, which can have much larger financial implications.
Lithium-ion batteries add to the electric GSE maintenance savings because:
They remain in the airport baggage truck during charging and are plugged directly into a charger
They do not require transport to a separate charging and cooldown area
They have a battery maintenance system that ensures the battery operates at its maximum for longer run times and an extended lifespan
Performance Receives A Boost
With the rollout of more energy efficient GSE and lithium-ion batteries that power them, airport baggage truck handlers are noticing a boost in performance.
In fact, during every work shift, lithium-ion batteries provide higher sustained power - up to 25% longer run times than lead-acid batteries. Lithium-ion batteries also have a longer life with 2,000 cycles at 80% depth of charge.
In the United States, airports are getting an additional boost to help with performance. In addition to the ZEV program, the FAA frequently awards grants to install electric charging points at airports. This helps offset the costs associated with providing infrastructure for electric airport baggage trucks and other GSE, sometimes as much as 50%.
Final Thoughts
There are nearly 5,000 public airports in the United States, and with the International Air Transport Association predicting that air traffic will double in the next 20 years, airports are looking for ways to increase efficiency in their operations.
Baggage trucks play a critical role in how airports operate and how successful airlines are at transporting travelers efficiently and on time.
The good news is, the move to electric airport baggage trucks, as well as other essential ground support equipment, means more efficiency. Combined with lithium-ion batteries as the power source, electric GSE offers a solution that benefits the airline industry, passengers and the environment.
You can read more in our article, Types of Electric Airport Ground Support Equipment.