If you depend on electric forklifts to run your operation, you know the significance of making a wise investment in the right battery.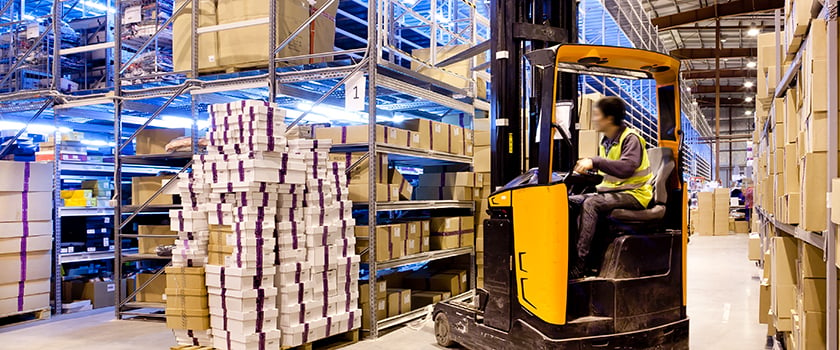 Batteries that power electric forklifts can be a considerable expense, especially if you're purchasing batteries for multiple forklifts.
One of the first questions you're likely to ask about a forklift battery: How long will this battery last?
Depending on the type of battery you purchase, there are general estimations available. However, a lot of factors play a significant role in how many years a forklift battery will power your equipment, including:
Battery type
Usage
Maintenance
Once you explore how these factors play a role in a battery's lifespan, you can better determine what the true answer is to the question of how long a forklift battery lasts.
Battery Types
Electric forklifts generally are powered by one of two different types of batteries:
The technology between the two differs greatly, and therefore uniquely impacts forklift efficiency and battery lifespan.
Lead-acid batteries are filled with electrolyte (sulfuric acid and water) and generate electricity through a chemical reaction between lead plates and sulfuric acid. The technology has been used for decades as the standard method for powering forklifts.
Heavier in size, lead-acid batteries can be especially problematic when they must be removed for charging and storage. Lead-acid batteries also require regular refilling with water, or the chemical process will degrade and the battery will suffer an early failure.
Lithium-ion batteries, on the other hand, feature newer technology. They are more compact and energy dense than lead-acid, which allows them to be more efficient. Unlike lead acid, the cells are sealed shut, requiring no water maintenance. This type of battery can have many different chemistries, though one of the most popular for the material handling industry is Lithium Iron Phosphate.
Usage
If electric forklift batteries are well maintained, both lead-acid and lithium-ion batteries deliver average cycle counts that can help you gauge how many years they will last based on your operation.
Lead-acid batteries generally last between 1,000 and 1,500 cycles.
Lithium-ion batteries generally last between 2,000 and 3,000 cycles.
It's important to note that lead-acid batteries take about 8 hours to charge, and then require another 8 hours for a cooling period. Therefore, one lead-acid battery can only power a forklift for one shift. If your business is a multi-shift operation, you will need two or three lead-acid batteries per one forklift.
Lithium-ion batteries, on the other hand, only take 1 to 2 hours to charge and do not require a cooling down period. Opportunity charging can take place in between shifts or during lunch breaks, for example. Therefore, one lithium-ion battery can power one forklift for all three shifts.
So, if your business only has one shift in which a forklift is used, a lead-acid battery that is well maintained should last around 5 years (1,500 cycles over 300 workdays per year). A lithium-ion battery, in comparison, should last 10 years or more (3,000 cycles over 300 work days per year).*
*Numbers are based on an average 6-day operational work week, with 12 days non-operational for holidays or plant shutdowns.
Lithium-ion batteries will last fewer years than the scenario described above if they are used during multi-shift operations since crews will reach cycle count maximums more quickly.
However, lithium-ion batteries are still the most cost-efficient option. Due to charging and cooling requirements, multi-shift operations that use lead-acid batteries require multiple batteries to power their forklifts. This incurs significantly higher labor and infrastructure costs - negating the benefit of lead-acid's lower initial purchase price.
Maintenance
Proper care plays an important role in determining how many years your forklift battery will last.
Lead-acid batteries require more maintenance because they be watered in order to prevent degradation of the chemical process. Battery watering procedures include:
Only topping off with water when fully charged and cooled down
Refilling the water often enough so that the top of the lead plates is never exposed (about every 10 charge cycles)
Using water between 5 and 7 on the pH scale
Leaving enough space for the liquids inside to expand, which occurs when the battery is in use
Temperature control is also very important with lead-acid batteries, which heat up while they charge. This is an important safety consideration for your workers, since lead-acid batteries can leak explosive gas after reaching their peak charge. That's why a separate battery charging station is necessary, so temperatures can be carefully managed.
Lithium-ion batteries, on the other hand, don't require as much maintenance. In fact, lithium-ion battery packs include a battery regulator, which ensures:
The battery cells remain balanced, since they may have different capacities or state of charge levels.
Discharging stops when the cell that is experiencing the lowest capacity empties.
The weakest or smallest cell will not be overcharged.
It's essential to follow manufacturer recommendations to ensure your battery performs at its maximum potential. Not following proper safety protocols or keeping up with routine maintenance can significantly decrease the lifespan of a battery.
For more information on getting the most out of your battery, our article, 5 Steps to Maximize Lithium-Ion Battery Life further outlines easy maintenance tips for prolonging your battery's lifespan.
Bottom Line
It's a logical question to ask anytime you're making a significant purchase: How long will it last?
But, when it comes to your battery's lifespan, many factors come into play, from the type of battery to whether proper maintenance is performed.
Lithium-ion batteries, in particular, are transforming the material handling industry because of their increased efficiency and low maintenance. No matter which type you use in your fleet, however, it's critical to properly charge, store and maintain your forklift batteries to maximize their lifespan - and value.