We recently visited the headquarters of Hollandia Dairy located in San Marcos in Southern California – one of the longest running family-owned dairy businesses in California.
We sat down with Bob Hodge, Product Control Manager, to learn how Hollandia Dairy's adoption of lithium-ion batteries from Flux Power has impacted their operations.
We'll share his advice from what he's learned in the process. Read the full interview below.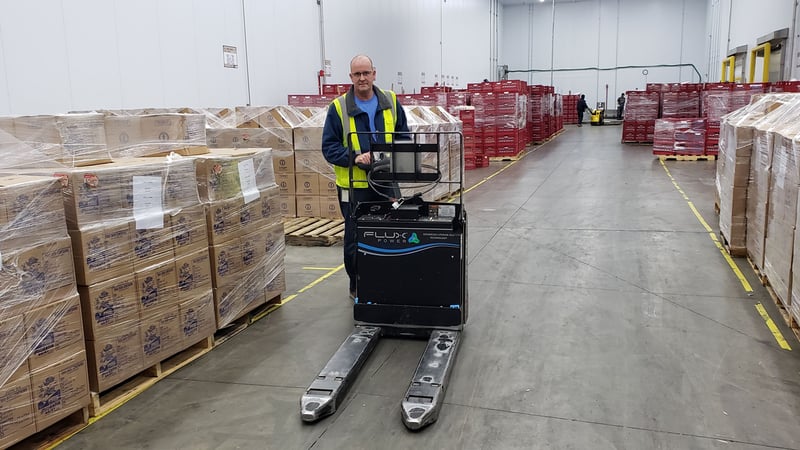 Tod, from Flux Power: Tell us about your company.
Bob, from Hollandia Dairy: The de Jong family came over from Holland in the 1940's. Currently the third generation is running the company today. We have farms in San Jacinto area, Hanford, and Arizona. We distribute milk and dairy products to numerous school districts across Southern California, a number of jails, a lot of military – all primarily out of our headquarters here in San Marcos.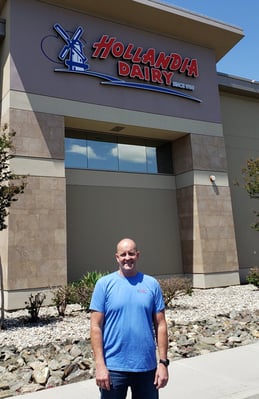 Flux Power: Tell us about your role as the Product Control Manager at Hollandia Dairy.
Bob: My role as Product Control Manager at Hollandia Dairy is to ensure that the customers get what they need. We have two coolers here, which I run with the help of my talented staff. The day operations are in charge of loading relay routes, distributors, Military accounts and replenishing the upper cooler for the night operations. The night operations are in charge of loading the local routes for next day deliveries and making sure the day crew is set up for the next day.
Flux Power: What is of top importance in your role?
Bob: Of top importance is making sure the customer has what they need. That we send out the freshest product available. Make sure the trucks are loaded efficiently and accurately.
Flux Power: What type of equipment are you running?
Bob: We have over 50 pallet jacks, plus some end riders.
Flux Power: Can you share with our readers, what role do pallet jacks and lift equipment play here at Hollandia Dairy?
Bob: The pallet jacks play a HUGE role. We're able to bulk load trailers. We have routes that take, for instance, 168 cases of chocolate milk, that's 4 pallets. If we had to hand-truck that all in, that would be twenty eight trips with a dolly instead of just four trips with a pallet jack. With the equipment, when it works right – it's a game changer. However, if your equipment goes down and you have to do everything by hand, it's rough.
Flux Power: Thinking back, what were some of the challenges you were facing previously?
Bob: Quite honestly, when we were using lead-acid, it was tough to even get a full 8 hours out of them – even getting 6 hours of production sometimes was a challenge. Guys would have to go on break, or take someone else's jack. When the day guys are taking the night guy's jack, the night guys come in and their jacks are just starting to get re-charged, so they're not able to get a full run. It just dominos.
Flux Power: So, then did you have two batteries per pallet jack previously?
Bob: With lead-acid, there are four batteries per pallet jack. We went to the AGM batteries and they lasted a little longer.
Flux Power: How about now, with Flux Power lithium-ion LiFT Packs?
Bob: With Flux Power's LiFT Packs, we're now able to assign guys jacks. They get a jack for their shift. And it will last the whole shift – and then some. We get 8, 10, sometimes 12 hours.
Flux Power: What have been some of your results so far?
Bob: Longer run times. We're more productive. No more issues with equipment going down. When we don't have equipment issues, we're not only more productive but also more efficient.
Flux Power: What do you like about the lithium-ion packs from Flux Power?
Bob: I really like the onboard charger. I like the sleek design – they slide right in, not a bunch of modifications or retrofitting that needs to be done.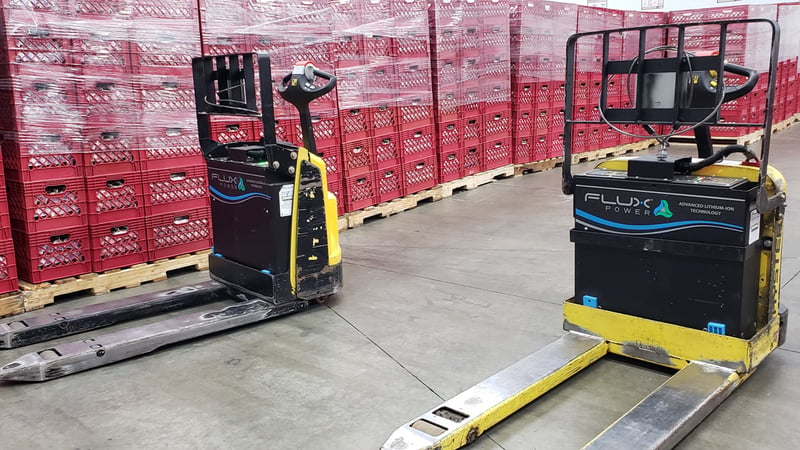 Flux Power: Did you face any challenges internally along the way? And if so, how did you address it?
Bob: There was talk of adding 5 more pallet jacks to our fleet. I felt that if we took that money and put it towards the lithium batteries we could come out ahead. By going with the lithium batteries we were able to cycle out 10 older jacks that had not been cost effective any longer. We also increased the productivity of those jacks we installed the lithium batteries in.
Flux Power: What advice would you give other fleet managers or warehouse operators with regard to lithium-ion?
Bob: Definitely give lithium-ion a shot! Even if you just want to 'dip your toe in' and buy one battery to start and run it on one lift or one jack to try it out – do that, to see how it works. Then once you get your results, you'll be hooked.
Flux Power: What has been your biggest win?
Bob: The Efficiency. No more down time. Not having to worry about if the night shifts will have enough jacks for their shift, no swapping in and out. And now you can hold them accountable because each person is individually assigned their equipment.
Flux Power: Any future plans you can share?
Bob: We're looking at getting an enclosed rider, and we're definitely planning on going with a Flux Power battery for that one. Eventually, we'd like to start phasing out the rest of our pallet jack AGM's (lead-acid) and replacing them over time with Flux Power LiFT Packs.
Flux Power: Any final thoughts to share?
Bob: Give Flux Power a call. They won't steer you wrong.
Tod at Flux Power: Thank you for your time and feedback, Bob!
Bob: Thank you!
Contact us today to experience the difference in your own operations and get started with a lithium-ion battery for your pallet jack, end rider or forklift.