Vista, CA – June 10, 2021– Flux Power Holdings, Inc. ("Flux Power") (NASDAQ: FLUX), a developer of advanced lithium-ion industrial batteries for commercial and industrial equipment, today announced that CTO Paulus Geantil will present as a co-panelist at the 2021 Battery & Electrification Summit held by SAE International on June 16th at 1:00 PM EDT.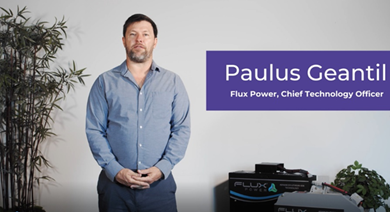 "The Battery & Electrification Summit is a great opportunity to learn about how lithium-ion technology is driving fleet electrification for commercial and industrial vehicles," said Flux Power CTO Paulus Gentil. "l look forward to sharing Flux Power's experience and the industry's evolution."
The virtual Battery & Electrification Summit will consist of two days (15th & 16th) of expert insight, innovation, and emerging applications for engineers, managers, and anyone looking to learn more about battery applications. The first day (June 15th) will cover the aerospace and defense sectors while the second day (June 16th) will cover automotive and commercial vehicle industries.


View Flux Power's profile here.

Event: 2021 Battery & Electrification Summit
Date: June 16th, 2021
Time: 1:00 PM EDT
Register here.


About Flux Power Holdings, Inc. (www.fluxpower.com)
Flux Power designs, develops, manufactures, and sells advanced rechargeable lithium-ion energy storage solutions for lift trucks and other industrial equipment including airport ground support equipment (GSE), energy storage for solar applications, and industrial robotic applications. Flux Power's LiFT Packs, including the proprietary battery management system (BMS), provide customers with a better performing, more environmentally friendly, and lower total cost alternative, in many instances, to traditional lead acid and propane-based solutions.
Flux, Flux Power, and associated logos are trademarks of Flux Power Holdings, Inc. All other third-party brands, products, trademarks, or registered marks are the property of and used to identify the products or services of their respective owners.


Follow us at:
Blog: Flux Power Blog
News: Flux Power News
Twitter: @FLUXpwr
LinkedIn: Flux Power


Flux Power Media & Investor Relations:
Justin Forbes
877-505-3589
info@fluxpower.com