Flux Power has seen substantial growth over the past several years. We have a complete line of Lithium-ion battery solutions for material handling equipment.
Thousands of Walkie Pallet Jacks are powered by the LiFT Pack S-Series
Our LiFT Pack M-Series provides a 24V solution for End Riders, Center Riders, and Walkie Stackers, while Narrow Aisle Forklifts use the 36V battery
Counterbalance Forklifts operate more efficiently using the LiFT Pack X-Series
At numerous airports in the US, you'll find Ground Support Equipment (GSE) powered by Flux Power's GSE Packs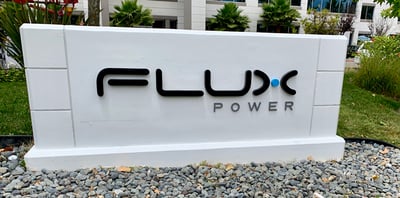 As demand for our Lithium-ion batteries has increased, we have outgrown our existing facility. And the time has come to move into a new home.
Our new facility covers over 60,000+ sqft. We are making improvements to our production lines, incorporating lean six-sigma philosophies. And we've built for the future, with the ability to dramatically ramp up our production levels to meet customer demand.
In addition to increased space for manufacturing, we've installed additional equipment for innovative prototyping and testing for reliability, including:
Large format 3D printer for rapid prototyping
Vibration table for accelerated lifetime testing
Regenerative load testing machines
With these investments in equipment, Flux Power engineers will continue to design and manufacture the best Lithium-ion battery packs in the industry, right here in Vista, California.